So I guess I should introduce myself. This is my first step into "real" blogging, so to speak. I maintained a livejournal page for a while, but felt like I wanted something a bit different, and something I had more control over so here I am, having defected to a newer "slicker" blog.
So this blog will be devoted to my knitting addiction (and an addiction it is, let me tell ya folks), and all things related... (if I have my way I will be spinning soon). So a bit about me- I learned to knit in college, taught by a friend of mine, and worked on this awful scarf thing for years. I had issues though manipulating two needles, and became an avid crocheter and cross-stitcher for a while. Then when I entered Divinity school I took up knitting again, finally got it right and it took off, fueled by the support of a few friends who were intent on bringing back the "cult of domesticity" with me.
So I knit now like its my job, but my real day job of course is being a doctoral student in the field of religion. Basically i get paid to read and TA, and I knit constantly whenever I have a free moment. In fact my grad student collegues like to joke they see me more often then not with needles in my hand rather then a book. I do read too!!!!
So my life revolves around knitting, reading, teaching, and my beautiful black dog Chloe. Chloe, is as I tell her often 'the best dog ever." She's a good mutt, sometimes naughty, oftentimes fun, but hey, you know, she's a "girl's best friend." Really she is the best thing to happen to me in years.
Here's a picture of her royal cuteness.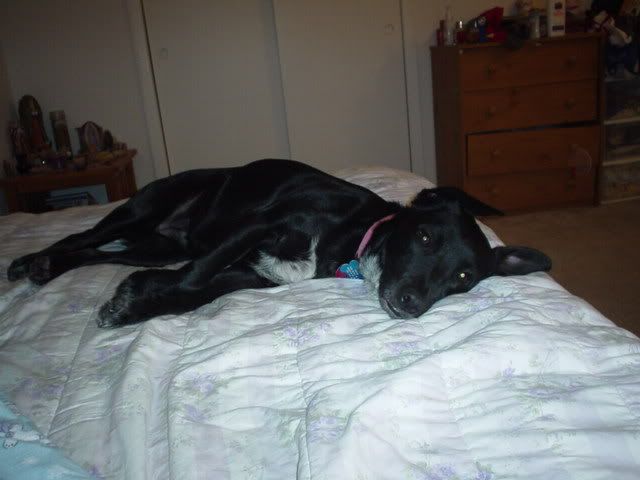 Sleeping, as she always does..... Chloe has cultivated the fine art of sleeping.. she's almost cat-like in that way.
Okay that's it for the introduction today. Gotta get this darned thing up and running you know???